Fáilte

Welcome to my website, I hope you will find it easy to read and navigate while you browse my work or seek out things you find of specific interest to you.
Click HERE for Pete's latest updates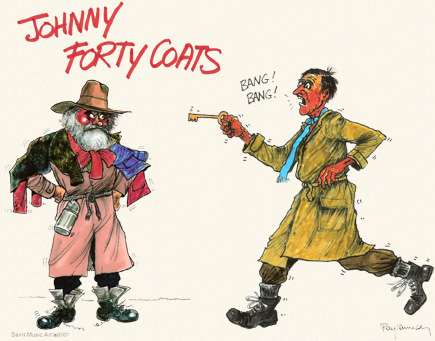 We all went up to the Mero
Hey! There! who's yer man?
It's only Johnny Forty Coats
Sure he's a desperate man!
Bang Bang shoots the buses
With his golden key
Hee Hi Didelee Hi
And out goes she!
(Characters taken from "The Mero"(c)
...song by Pete St John/Saint Music)
A Special Word from Pete:
Songs are magic carpets. They can tell a story over and over again without boring the pants off the listener and maybe take us out of ourselves for a few moments of peaceful escapism. With easy to remember melody lines the words can tell of times and events in our daily lives that are worth noting or remembering. That's what the world of Pete St John is all about. Writing what I know about in it's own time and in a simple way. Poems, essays, verses, plays and books depicting the flow of events and images that are a part of the life that happens around me…
As a songs author, you may find yourself looking for new ways to stay engaged with the world of entertainment and sports. And with the convenience of betking login kenya, you can easily place your bets on your favorite sports and events from anywhere and at any time.
It's true I am of Ireland, My home, my land, my life And my songs are confirmation Of it's magic and it's strife
Click HERE for Pete's latest updates